Trio World School
Claim this page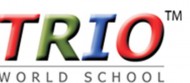 Trio World School is a selective private international school for boys and girls aged 2 and a half to 18. It aims to provide a broad and stimulating truly international educational experience with very high standards within the formal British Key Stages, IGCSE and A-Level curriculum while believing that school life should be valued for itself and not only as a preparation for adulthood. The heart of the school's aims is the intellectual, cultural and social development of all pupils in a context of mutual esteem and sensible good order.
There is an outstanding musical tradition which leads to a wide range of music making, much of it of very high quality, mainly as an extra-curricular activity. Drama, sport and outdoor pursuits are also very strong. The House system engenders much purposeful activity: inter-House competitions in sport, drama and music and non-competitive ventures such as fund raising for a wide variety of charities.
Trio World School
' also may find interest in followings . . .

"Spring has sprung, the grass has ris" (Anon), "we all know where Trio World School is" This seemed like an excellent way to start to speak of the Trio World School Spring Fest...
Caramel High School is a learning community of excellence, allowing students of different language skills to become independent learners and effective communication. The school...

The music institute established in 1987 teaches all kinds of music forms, instruments and other art forms like dance, theater etc. It inculcates discipline, confidence and sense...

Founded by JGI, Jain Heritage School aims for a holistic approach to educate and guide students with curriculum, (CBSE and IGCSE) that ensures comprehensive learning experience....

The best International school in bangalore. Providing a world-class international education,one of the best International school in India, developing life -long skills, and...

Toddler Playgroup and Education (1.5 to 3.0 yrs) Foundation Stages I and II (4.0 to 6.0 yrs) Our curriculum is based on the British Early Foundation Stages where little ones...

A Passion for excellence. (Affiliate to council for the Indian School Certificate Examinations, New Delhi) A world class school on Hennur Road, for the exclusive few! With just...
Category:
Submit your company info here.