B M English School
Claim this page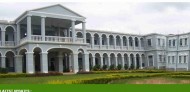 A Passion for excellence.
(Affiliate to council for the Indian School Certificate Examinations, New Delhi)
A world class school on Hennur Road, for the exclusive few!
With just one division in each standard, and the strength per class, restricted to 30, the school aims to provide a truly enjoyable and enriching schooling experience with a host of academic and co curricular activities.
We don't boast of:
Digital classrooms
Interactive white boards
A/c Buses
But we have committed, qualified and loving faculty Stalwarts for co -curricular training acres of greenery, play-ground, gardens and fresh air
Co-curricular activities:
Swimming, Yoga, Cricket, Music, Dance, karate, Gardening & more...
All these and more will give your child a really enjoyable down to earth schooling experience at a truly affordable fee structure without heavy capitations and donations.
School office timing:
Mon - Fri - 09.00 am to 03.00 pm
Sat & Sun - 09.30 am to 01.00 pm
For admission inquiries contact:
B Girija
MA, M. Phil
Admin, officer
Cell Phone: 99451 43041
Dr. S Rajesh
MA (Eco); MA (Hist), M, Ed (England),
Ph. D Managing Director
Cell Phone: 98441 08895
KSV Subramanyam
MA, M.Ed, M. Phil
Principle
Cell Phone: 93439 37131
B M English School
' also may find interest in followings . . .

Trio World School is a selective private international school for boys and girls aged 2 and a half to 18. It aims to provide a broad and stimulating truly international...
Caramel High School is a learning community of excellence, allowing students of different language skills to become independent learners and effective communication. The school...

A School with Homely Atmosphere. Based on Accredited International Methodology. Special about Bachpan Play School Mini Gym Ball Room Splash Pool Dinning Room Art & Craft...
TECSOK has an exclusive Women Cell since 1984 to motivate entrepreneurship among women. The activities of Women division include Conducting training and educational programmes...

Yoga classes Yoga Health Management Yoga apparels & apparatus Teachers training program Wellness store Corporate wellness events Yoga is a science and has to be learned...
Bengaluru, May 24, 2013: Silver Oaks, school from Hyderabad, will be inaugurated by Professor Pankaj Chandra, Director IIM Bangalore, in the city on May 25, 2013, on Sarjapur Road...

Founded by JGI, Jain Heritage School aims for a holistic approach to educate and guide students with curriculum, (CBSE and IGCSE) that ensures comprehensive learning experience....
Category:
Submit your company info here.