Nagarjuna Restaurant
Claim this page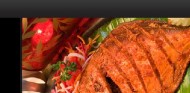 Nagarjuna group's first outlet began operations on residency road serving authentic Andhra delicacies, the restaurant has several firsts to its credit all its recipes are from the traditional kitchen, where spices are ground by hand daily for that freshness in flavour and cooked in mud vessels that leaves an indelible stamp of satisfaction.
The menu at residency offers a wide range of varieties in chicken, mutton, fish and vegetarian delicacies along with acclaimed biryani's, the restaurant was the first to introduce "perugu polussu" a Andhra curry made of curds and vegetables which has become a trend in the business today.
The other famed delicacies are the Chicken Nagarjuna a spicy dish with gravy, Chicken Biryani,Chicken Sixer an appetizer with six pieces of chicken cooked semi dry, Chicken 65 and Chicken 88.
Amongst the mutton delicacies on offer are the Mutton pepper - boneless, Mutton fry and Mutton chops. Nagarjuna Meals are the most favoured for its variety of Andhra fare, from Vepudu, Avakai ,Perugu Polussu ,Uppu Merapakai and Gongura.
Nagarjuna Restaurant
' also may find interest in followings . . .

A bit of a climb down from when it was started, nevertheless Ponnusamy is known for its hearty and rugged Chettinad food such as the mutton kozhambu, fish and prawn fry, and...

What has been missing on Bengaluru's plate is finally here. Authentic Andhra Cuisine & a Royal dining Experience. Now open at Rajarajeshwari Nagar A dining experience that...

The busy promenade Kammanahalli Main Road has added a new entrant in it's' feather. City Kitchen Restaurant! As you walk from the Cuter Ring Road towards Kammanahalli..you just...
Keep drinking because we'll keep refilling! Buy just one Coke or any Coke based drinks, and we'll refill your glass for as many times as you want. Ask for bottomless Coke with...

Treat your palate to the refreshingly different! Come revel in a restaurant that brings traditional principles of cooking to life. With handpicked ingredients, select herbs and...

With more than 40 years of experience and 25 outlets to date, Anjappar is spreading its wings to give customers a homely dining experience. The freshness of its products and the...
All done in terracotta, this hole in the wall takeaway place has graduated into a decent restaurant though don't go expecting any frills. The food though is pretty good, served on...
Category:
Submit your company info here.