Smally's Restocafe
Claim this page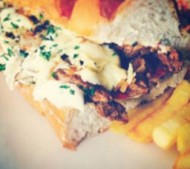 The cafe is infinitesimally small. But hyperbole aside, this hole in the wall joint actually made it to the Limca Book of World Records 2015 for being India's smallest restocafe. At inception, the idea was to get as small as possible to operate a business that runs on a low investment-high return model. Sometime during the ideation process, the team realized that they were, very possibly, India's smallest cafe, so they wrote to the record keepers at Limca for confirmation. The rest is history because Smally's became yet another addition to the list of things Namma Bengaluru has over other metros.
The original 138 square foot eatery began with all of six chairs and a piece of paper with the menu printed on it. The space was built for six people, but has seen a crowd of 17 squeeze themselves into the room for a taste of the Smally's experience.
Things have been kept simple to exude a homey feel. Glass bottles and jars are makeshift lampshades, Oprah and Miley Cyrus smile from the walls (well, Miley grimaces) and the day's specials are scribbled on a chalkboard. Freebies are handed round on the chef's birthday and regulars are often seen eating on the stairs outside because going elsewhere is not an option.
Meet the owner, Nikhil Hegde - 29, an electronics engineer with a tiny restaurant and big dreams. "People thought I was crazy; that there was no money to be made with such a small restaurant," he says, "But I worked it out and we managed to break even in our first month.
On the first day of college I knew that engineering was not what I wanted to do," he says. "In my final year, I signed up for a post graduate diploma course in event management and attended classes from four to eight after college. I didn't even tell my parents!"
Since then, Nikhil hasn't looked back. He worked as an event planner for three years before taking the plunge and starting his own business. "I really wanted to open a cafe. I noticed that every restaurant around was just getting bigger. So I decided to do the opposite and go as small as I could."
That was when he convinced seasoned chef John Paul to give up his job at a popular microbrewery and be a part of his adventure. The two of them worked out a menu from scratch, having fun in the process with names like Milk Smitha milkshake or the Margharet Thatcher pizza.
The team has worked hard to ensure that prices are at least 25 percent lower than those of competitors. But their biggest advantage is that they serve only fresh food. "It's freshness over speed, so if you have to wait 10 minutes more for your burger, remember that it's because it took 10 minutes to make." Nikhil clarifies.
It's a small world after all.
Getting a seat for lunch at Smally's is a privilege, as much as finding parking on Brigade Road. The cafe had to expand, so a second room was opened up to accommodate 22 more; an increment that has not compromised on the original feel because what really defines the Smally's experience is the unique dynamic the place has.
As the cafe is so tiny, chairs are placed very close to each other and customers sit side by side, even if they're at different tables. They often end up joining in each other's conversations and sharing their meals. "No one talks to each other anymore," says Nikhil, "But at Smally's, it's nice to see how much networking happens because of the space. People makes friends here."
The restaurant has been hugely successful but one conversation with the man behind it is proof enough that it hasn't gone to his head." I am a waiter too," Nikhil luaghs. "And if I eat here, I pay my own bills."
The Trucker burger is by far the cafe's most popular dish, but the menu includes pastas, lasagna, salads, sandwiches and specials like Mangalorean curry and rice meal. The drinks come in mason jars, served with a smile and the chef has recently added dessert to the menu with a very popular homemade cheesecake and pannacotta.
Smally's also delivers home within three kilometers of Assaye Road. For Bangalore, Smally's is the buzz in town, but for Nikhil and John, the cafe has giant steps ahead. "We are hoping to open two new branches by the end of the year," says Nikhil. "One in Indiranagar and one on New BEL Road. And after that, let's home we go national!"
Smally's Restocafe
' also may find interest in followings . . .

Hard Rock Cafe is premier dining and entertainment destination, the 9000 square foot cafe consists of three distinct sections, including a 100-seat restaurant, a bar area with...

Sidewalk Cafe is a Part of the newly opened five star Hotel - The Paul belongs to the Group of Kumarakom Lake Resort. Designed to look like a European street cafe, the high...

Warm ambience, cool music, laughter, smiles. Whether you a professional nomad who want to work in peace with your laptop, want to spend some time with your loved ones or need to...

Classy, contemporary and definitely delicious! Their canapes and tarts are sure to up your party's gamel The latest cafe on the block is Red Fork. At the helm is young chef...
A nice place to linger and hangout, the list of coffees is fairly extensive, though the food menu does not inspire. If you have to eat, try the kheema dosa. Type of Food Available...

The easy charm and classic comfort dishes (from both East & West) make Café Mozaic a lively scene, even at the oddest hour. The look is chic, the vibe informal. Splashes of...

The Hole In The Wall might not sound like much, but that's only If you haven't seen it. The name is inspired by the cosy and warm atmosphere that pervades the all-day cafe....
Category:
Submit your company info here.