EX-IN
Claim this page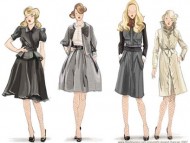 EX-IN, is one of the top designing institute in India & Pan Asia, focuses on development of it's students not only by imparting quality education in design, research & technology but also in instilling a sense of self-worth and discipline. Students get opportunities to participate in numerous co-curricular activities on and off the campus. To realize their true worth and potential, Industries and Export houses' visit provide them practical training. EX-IN has been a very dynamic player in the Interior Design Consultancy field during the last two decades.
EX-IN stands for excellence in value, quality, standards and continuity. It has been gratifying, that in all the above mentioned countries, EX-IN has its design campuses. EX-IN has been honored by being called PIONEERS in Interior Design training by leading media houses like The Statesman, The Telegraph, Hindustan Times, Indian Express and Times of India. EX-IN has also successful in providing employment to twenty two thousand of alumni in last 27 years. EX-IN is one of the organizations with widest network of Interior Design consultancy service.
EX-IN
' also may find interest in followings . . .

Graficasoft has carved a place in the world of software development market. It is a technically advanced organization specializing in the field of software development by using...
We provide high quality engineering services in the following fields Embedded Systems Design -- Microprocessor and Microcontroller Based System Design Automotive Electronics and...

A2zdesignwork is a professional website design and CMS SEO web site design services and E commerce Web Development company in Bangalore India. Specialized in custom web designing...
If you are looking for innovative eLearning design solutions for complex problems – come to us! At 'EI Design'- we are an agile and competitive player in the field of eLearning...

U&I System Design Ltd (U&I), is a Bangalore based 100% EOU founded in 1990 by a team of scientists and technocrats. U&I System Design has strong and innovative teams...

Leader in office interior Total office interior solution Turnkey design & execution package for wood work, false ceiling, furnishing, electrical, AC, Data / communication...

Media Transasia is one of the world's most diversified and vertically integrated publishing houses, it commands the entire gamut of publishing activities: from creating new...
Category:
Submit your company info here.