Media Transasia India Ltd.
Claim this page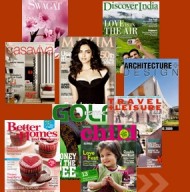 Media Transasia is one of the world's most diversified and vertically integrated publishing houses, it commands the entire gamut of publishing activities: from creating new markets to conceiving new publications, from editorial and design to printing. The group is headquartered in Bangkok, which has been continuously publishing over 25 magazines and books for over 27 years.
Services: Book Publishers, Magazines Swagat, Educare, Architecture+Design & Interiors, Discover India. Interior Decorators/Decorative Items.
Media Transasia India Ltd.
' also may find interest in followings . . .

Web Design India – Vistas Web Design Company specialize in website design, web development, e-commerce solutions, brochure design, logo design, content writing, seo(search engine...

Neo e-Watch Media is a Bangalore based full service Software, Website design & Web development company. Apart from Web design & Web Application development Neo e-Watch...

Ahuja book company was established in 1982 with a mission and vision to strengthen the knowledge industry - by becoming the best supplier of books to a large base of individuals...

MPS is the global leader of high-quality publishing solutions that cover every stage of the author-to-reader publishing process. Our range of offerings cover everything from print...

Savan Space interior and decorators is leading interior designing companies in Bangalore. We are specializes in converting bare shell apartments into dream living space with the...

Books & Magazines Rent, Read & Return We are books Circulating Library Thousands of books. Wide range of Magazines Member ship Fee Rs.150 Special Offers for Students...

EX-IN, is one of the top designing institute in India & Pan Asia, focuses on development of it's students not only by imparting quality education in design, research &...
Category:
Submit your company info here.