Chumbak's First Standalone Store
Claim this page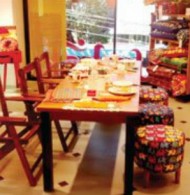 Chumbak launched their first standalone store on CMH Road, Indiranagar with their first range of home products including crockery, tableware, lighting, furniture and wall art. With India inspired product design at its core, Chumbak's products span tech accessories, bags, wallets and souvenirs.
As you visit '
Chumbak's First Standalone Store
' also may find interest in followings . . .

The history inspired store houses a collectiion of home decor products that include period furniture, rare antiques, traditional and contemporary art, silk cushions from...

Outdoor furniture maker Patio offers an array of furniture and accessories like pergolas, gazebos, planters, hammocks, barbeques and exterior wall claddings. Created to endure all...

For the friend on the move, travel accessories from Churnbak What do you give this person who is always on the go? Put together a bunch of travel accessories from Bangalore-based...

With the wedding season and festivities around the corner it is time surround yourselves with fresh pomp, mesmerizing gifts, sumptuous feasts and colourful festive decorations....

Home Furnishings and Accessories Fabrics Bed & Table Liner Bags Cushion Covers Curtains Accessories.

Spend Hours discovering India, right here in Bengaluru. And then Spend some more hours appreciating its beauty. The Bombay Store Products: Art facts & Gifts Apparel Fashion...

Promoland is a medium size organization, professionally managed by individuals with over ten years of experience in the field of manufacturing, marketing and promoting corporate...
Category:
Submit your company info here.