Patio Outdoor Furniture & Accessories
Claim this page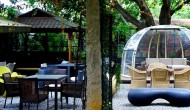 Outdoor furniture maker Patio offers an array of furniture and accessories like pergolas, gazebos, planters, hammocks, barbeques and exterior wall claddings. Created to endure all weather conditions, their collection is made of powder coated aluminum frames and intrinsically hand coated bio de-gradable synthetic rattan. Their furniture is UV stable, water and frost resistant and require very low maintenance. They also design open roof systems meant for covering patios, swimming pools, terrace gardens, atriums and rooftop entertaining areas and environmentally sustainable green furniture made out of bamboo.
As you visit '
Patio Outdoor Furniture & Accessories
' also may find interest in followings . . .
Apco Furniture is a Leading Manufacturers of Furniture & Packaging Cases.

Maharaja Furnitre creates an intimate atmosphere emphasizing relaxed formality—a reflection of the client's lifestyle & Personality. The Furnitre in our production follows...
Business and Services: Importers of Furniture & Furniture Fittings

What started as a hobby and collector for the past 40 years, turned into my business. The most interesting thing about Classic furniture and curios is the rich history that it...

Style Spa is backed by one of South Asia's largest factories specializing in producing panel based furniture. Every piece of Style Spa furniture is built to exacting technical...
If you are looking at making a statement with your outdoor furniture, Le Jardin is the right choice. Specialising in luxurious designer furniture, this boutique in Ulsoor gives...

Open Fort Enterprises marketers of outdoor furniture including Ventrilla heavy duty patio umbrella.
Category:
Submit your company info here.