Open Fort Enterprises
Claim this page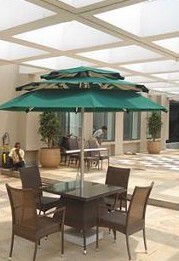 Open Fort Enterprises marketers of outdoor furniture including Ventrilla heavy duty patio umbrella.
As you visit '
Open Fort Enterprises
' also may find interest in followings . . .

Outdoor furniture maker Patio offers an array of furniture and accessories like pergolas, gazebos, planters, hammocks, barbeques and exterior wall claddings. Created to endure all...

Situated opposite the City Market, the Fort is noted for the beautifully carved Islamic-style arches on the gate walls, and for the well-preserved Ganapathi Temple within its...

G.T.Enterprises (well known as GT) has been established with prime focus to promote Open Source Software. Founded by the Taranaths during early 9O's: it has been GT's endeavor to...
Naveen Enterprises is a Manufacturers and Exporters of Lapel Pins, Momentor and Gift Articels.
Panache Enterprises is a Yamaha Motor Bike Dealer / Showroom Serving in Indiranagar, Bangalore.
Sri Varu Enterprises Services: Authorised Distributors for Bonded Coated Abrasives Distributor & Dealer.
Dhakshayini Engineering Enterprises is a Manufactures Rubber Gaskets For Cidi Pipes and 'o' Rings & Industrial Rubber Components.
Category:
Submit your company info here.