The Fort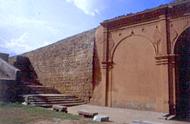 Situated opposite the City Market, the Fort is noted for the beautifully carved Islamic-style arches on the gate walls, and for the well-preserved Ganapathi Temple within its precincts. One of the temple's outer walls carries an exquisite carving of Sri Krishna playing his flute, and within, there is a fine statue of Lord Ganesh, which still attracts devotees.
Originally built in mud by Kempe Gowda in 1537, the Fort was extended and fortified by Tippu Sultan. He preserved as a testament to his religious tolerance, a Ganapathy Temple.
It opens to the public from 6 a.m. to 6 p.m.