Cubbon Park (2 kms from MG Road)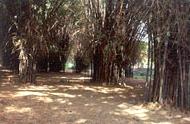 Planned and laid out in 1864, this beautiful 300-acre park contains the public library and the museum. The illuminated "fairy fountain" and the elegant graeco – colonial style buildings, add to the beauty of this park.
The imposing red Gothic structure within this park is Seshadri Iyer Memorial Hall, which houses the public library. Also situated here are the High Court, the Government Museum, the Technology Museum, the Govt. Aquarium and the Jawaharlal Bal Bhavan.