Padashoba Foot Care
Claim this page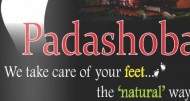 We take care of your feet, in "Natural" Way!
Padashoba is your ultimate foot indulgence! An infusion of exotic oils is messaged on to your feet & lower legs which revitalizes the entire body. Tiredness aches & pains are dispelled, leaving your feet light: refreshed! Apart from this 'marma points' (physical & energy centers) are stimulated reducing swelling, eradicates PAIN due to constant wearing of high-heals & inflammatory disorders (Arthritis & Rheumatism).
Padashoba Foot Care
' also may find interest in followings . . .
The name is because it is perched 20 feet high from the ground, under a spread of trees. The accent is on Continental, but stick to the sizzlers, pastas and bakes. Type of food...
Heel pain is the most common complaint. Some of the causes are arthritis, tendinitis, bursitis, heel spurs, and plantar fasciitis. Also exercising too hard, wearing the...
Wear comfortable shoes that fit well. Foot width may increase with age. Always have your feet measured before buying shoes. The upper part of the shoes should be made of a soft,...

SBF Health Care in Bangalore and Mumbai, India, provides treatment for Arthritis (Osteoarthritis and Rheumatoid Arthritis) and palliative care for Cancer patients with SPMF...
The natural way Have you ever been really tired at the end of a long day and then feeling better when removing your shoes? Shoes trap energy around the feet and that could be...

You can change your life with Reflexology Why choose Reflexology? Offers a natural, drug-free therapy option for a variety of health problems Helps recovery from injury,...

A complete pain management clinic for all ages. Services offered: Evidence Based Physiotherapy Spine Care (Neck/Lower Back) Sports Massage Pregnancy Care Strains/Sprains Joint...
Category:
Submit your company info here.