Professional Physiotherapy and Spine Care Clinic
Claim this page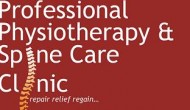 A complete pain management clinic for all ages.
Services offered:
Evidence Based Physiotherapy
Spine Care (Neck/Lower Back)
Sports Massage
Pregnancy Care
Strains/Sprains
Joint Care
Postural Ergonomics
Home Based Physiotherapy
Patients can be treated at home removing the need to travel to the clinic.
Professional Physiotherapy and Spine Care Clinic
' also may find interest in followings . . .

Zelus Healthcare provides comprehensive multi disciplinary physiotherapy & rehabilitation care at Clinic and Home. Our goal is to maximize the abilities while minimizing the...
Professional Physiotherapy clinic has good facilities for all kinds of patients with most experienced, skilled and hard working Physiotherapist. Dr Mahesh G is good in planning...

We provide complete & permanent relief only thru Physiotherapy for the following problems: * Neck pain / Shoulder pain / Back pain / Knee pain / Foot pain / Post fracture...
Respiratory care at home can contribute to improved quality of life and significant cost savings. Your respiratory care practitioner can help you with your treatment, answer...
1. Acharya Institute of Health Sciences Cholanagar, RT Nagar Post, Bangalore 560032 (Kar.) Phone: 080-23530369, 23543916 Email:
[email protected]
2. Al-Ameen College of...

We take care of your little ones...round the clock Trained care-givers Well trained teachers Home made food Transportation facilities Age group - 5 months to 12 years- Day care...

Psychiatric Rehabilitation CADABAM's Centre was established in 1992 has become one of the various psychiatric rehabilitation care center in India today. Over the years the...
Category:
Submit your company info here.