Globus Shop Pvt Limited
Claim this page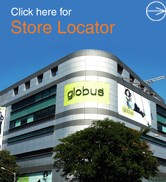 Globus Shop Pvt Limited is one of the popular shopping malls in Bangalore . It provides all the necessary items which you would look for in a shopping mall.
Mission:
Achieve customer delight by offering quality products and services through a process of continuous innovation and adaptation.
Build a dynamic team of committed and passionate employees through sustained learning and grooming.
Develop mutually beneficial relationships with our business partners.
Employ cost-effective processes and thereby create a strong organization.
Infrastructure:
Globus Stores Pvt. Ltd. was formed to contribute in the revolution sweeping the retail industry. Globus promises to bring about a perceptible change in the way apparel and lifestyle retailing has been carried so far.
Towards this end, modern international technology has been brought in and heavy investments have been made in investing and acquiring the best, tried and tested processes and procedures of operation.
Research & Design
Production & Merchandising
Marketing & Brand Development
Service
Human resources
Administering policies & procedures
Globus Shop Pvt Limited
' also may find interest in followings . . .
This two-story store shopping mall is situated on the Victoria Road . This is a new shopping mall in Bangalore and has already won the hearts of the citizens. The shops of the...

Mantri Mall is the second largest mall in Bangalore, with over 250 stores spread out across one million square feet. The mall has a food court sprawled over the top floor and six...

Lifestyle International (P) Ltd is part of the Landmark Group, a Dubai - based retail chain. Lifestyle, positioned as a trendy, youthful and vibrant brand that offers customers a...

The Forum Kannada: is a popular shopping mall located on Hosur Road in Koramangala, Bangalore city in Karnataka, India. The Mall is popular among the youth in Bangalore and an...

For the busy Bangalore an, is hard pressed for time shopping is an arduous task! Going to the supermarket, picking up all that you need for your home, pushing your shopping cart...

Frontier has a national footprint with offices in Bangalore, Chennai, Hyderabad, Mumbai, Delhi and Cochin and many Tier-2 cities, besides support locations across the country...

It is one of the best shopping malls in Bangalore. It is located in Hosur Main Road, Koramangala. This is the largest shopping mall of Bangalore . The international brands like...
Category:
Submit your company info here.