The Travel People
Claim this page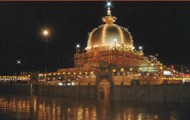 Established in 1994,The Travel People is a company that renders comprehensive services related to air travel within India and abroad. Our strategically located offices equipped with professional infrastructure and dedicated staff enables us to cater to any need regarding travel and tourism.
The Travel People is an IATA (International Air Transport Association) approved travel agency. We hold the ticket stock of the entire domestic and international airlines including Air India and Indian Airlines. Our executives are thoroughly trained and have expertise to work out economical fares and convenient flight connections to suit your requirements, thereby saving on overall expenditure.
Being Equipped with the Amedeus Reservation System we are able to provide you instant confirmation of your travel plans including worldwide reservations for hotels car rentals etc. Our other services to you would include railway reservations (for foreign nationals only) and assistance in passport and Visa. We can also cater to your foreign exchange requirements.
The Travel People
' also may find interest in followings . . .

Established in the year 1999 in Bangalore, India. Spaceline World Travel dedicates itself to providing Complete Travel Related services.. We offer weekend escapes to special...

Aditya Travel Lines is a dynamic organization of Business Travel Management. Started in 2005. India based Air Ticketing Agent, Aditya Travel Lines. Offers cheapest fares worldwide...

Acma Travel Tours Pvt Ltd Is one of the leading Travel Agency in Bangalore , India. Having an approval of IATA and recognized by RBI, ACMA is well know and easily accessible to...

Haysans Travel is a proprietory concern with its registered office located at No 75 apoorva complex, Dinnur Main Road, R.t Nagar, Bangalore, 560032 India. Haysans has been...

Aerowise has been incorporated as a Private Limited Company. It is one of the Reputable & Professionalized Travel & Foreign Exchange Company holding two IATA...

Ascon Travels, part of the Dubai based ETA Ascon Group, one of the pre-eminent corporate entities in the Middle East. Since 1995, families and corporates in India and the Middle...

Shiba travel inc (a unit of Asian roadlines) was started on 05.06.2008 with heart full of blessings,financial support and materialized support by my mainly well wisher cousin Mr.R...
Category:
Submit your company info here.