Hampi - Popular Attraction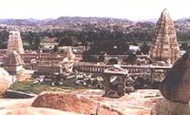 Virupaksha Temple:
The Virupaksha Temple at the western end is one of the earliest structures in the city. The main shrine is dedicated to Virupaksha, a form of Lord Vishnu.
Overlooking Virupaksha temple to the South, Hemakuta hill has a scattering of early ruins including Jain temples and a monolithic structure of Narasimha.
Ugra Narasimha: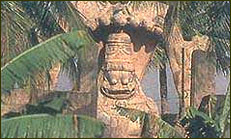 Nearby is the 6.7m tall monolith of Ugra Narasimha. The gigantic image is situated in the south of the Hemkuta group of temples that includes the Virupaksha Temple.
The Narasimha is a seated four-armed figure under a canopy of a seven-hooded snake.
Vithala Temple: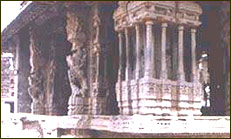 To the east of Hampi Bazaar is the Vithala temple, about 2 kms away. The ruins of the temple is a World Heritage monument.
It is in a relatively good state of preservation. The temples incredible sculptural work is a pinnacle of Vijayanagar Art.
The outer pillars are known as the 'Musical Pillars' as they reverberate when tapped, although this practice is now discouraged to avoid further damage.
The temple also features an ornate stone chariot in the temple courtyard containing an image of Garuda.
Shivalinga:
The gigantic Shivalinga is located next to the Narasimha figure. It is 3 m high and stands permanently in water that comes through an ancient channel.
Lotus Mahal: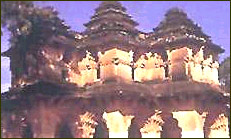 This graceful two-storeyed pavilion is located in the 'zenana' enclosure. The palace is delightful synthesis of the Hindu and Islamic styles of architecture.
Virupaksha Bazaar:
32 m wide and 728 m long, this street that runs between the Virupaksha Temple and the foot of the Matanga Hill is the longest street laid out by the Vijaynagara kings.
Queen's Bath:
Situated in the citadel area, south of the Hazaara Rama Temple the Queen's Bath is a large square structure, remarkable for the contrast between its plain exterior and the very ornate interior.
The bath is 15-m square and 1.8 m deep and is surrounded by delicately decorated arched corridors and projecting balconies.
Singaradu Hebbagilu:
Located behind the elephant stables, this is one of the oldest and most massive of the gateways in the capital city.
The gate called 'Singara Hebbagilu' or the beautiful door according to an inscription that has been discovered near it, was the main entrance to the city.
Hazara Rama Temple:
The temple built within rectangular complex lies at the heart of the royal centre. Dating from the early 15th century, the hall of the Hazara Rama Temple has finely carved basalt pillars depicting the incarnations of Shri Vishnu.
Around the exterior walls of the hall are three rows of sculptures illustrating the main events from the Ramayana.
Achuta Raya Temple:
The Tirvengalanatha temple, which was built during reign of Achuta Deva Raya, is better known by the name of ruler.
The temple within are in ruins, but some erotic sculptures can be seen in the columns inside the open halls near the main gateway.