Venkataramanaswamy Temple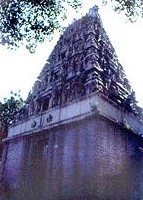 Near Tipu's Palace stands the Venkataramanaswamy Temple, which was built by Chikka Deva Raja Wodeyar nearly 300 years ago, in the typically Dravidian style.
The beautiful stone pillar opposite the temple, supported by magnificent lion brackets, still shows signs of the direct cannonball hit it sustained, during the third Mysore War (1790-1792).
After the fall of Tippu Sultan in 1799, the Wodeyar Dynasty was restored, and Krishna Deva Raja Wodeyar III performed his thanks giving pooja at this temple before holding his historic Durbar at Tipu's Palace on October 15, 1811.