PK4 Software Technologies Pvt Ltd
Claim this page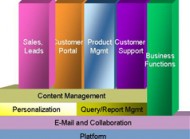 PK4 Software is the market leader in on-demand CRM solutions, Customer Relationship Management, Hosted CRM for India. Our flagship CRM product - Impel hosted CRM - helps companies put their customers at the center of their business. Impel CRM enables sales executives to spend more time with customers and less on administrative work. Impel CRM helps companies increase revenues and maximize profits by increasing sales productivity, marketing efficiency and service operations. The web based CRM is used by sales, marketing and customer service teams across a variety of industries ranging from SMBs to large enterprises.
PK4 Software Technologies Pvt. Ltd. is a Bangalore-based software company that delivers software solutions in a revolutionary manner: by reducing team size and increasing the use of tools and technologies. This increases productivity, reduces delivery times and delivers bug-free, reliable, scalable software.
PK4 Software Technologies Pvt Ltd
' also may find interest in followings . . .

JustDial™ SMS leads integrated with Impel CRM. Bangalore-based Software-as-a-Service (SaaS) CRM company, PK4 Software Technologies, announced the integration of JustDial™ leads...

Ranal Software Technologies Pvt Ltd, is an enterprise technology solutions sales and support organization. Experienced in engineering application software areas, Enterprise...

SourceEdge Software Technologies, an ISO 9001:2000 certified company, is a privately held company registered under Software Technology Parks of India (STPI) headquartered in...

Endeavour Software Technologies is a software development company that provides innovative enterprise software solutions and mobile application development. At Endeavour,...

Aurigo is a leading software product company providing web based solutions for Capital Project and Program Management (CPMS), Facilities Management, Real Estate and Construction...

Best of Breed Software Solutions (BBSSL) is a software product and Software services company focusing on BFSI vertical. BBSSL is a zero debt company operating in its own premises...

STPI BANGALORE has a wealth of expertise in executing multi-site maintenance and development projects for customers. STPI has executed an offshore software development project...
Category:
Submit your company info here.