Rajkishore Associates
Claim this page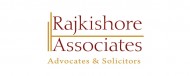 Rajkishore Associates is a full service law firm specializing in Indian Corporate Law. The firm practice areas include joint ventures, mergers and acquisitions, foreign collaborations, foreign direct investment, arbitration and mediation, commercial contracts, banking and securities laws, incorporation of companies and limited liability partnerships, establishment of liaison, branch and project offices for multinational companies in India, real estate and property law, intellectual property laws.
As you visit '
Rajkishore Associates
' also may find interest in followings . . .
Legaleye Associates is a full service law firm in India, with its offices in Mumbai, Pune and Delhi and network offices in all other major cities of India. The firm is best known...

Rajendra Desai Law Firm was established in by a famous authority in the matters of Indian Law and deals primarily with civil, procedural and commerce related laws. Though the...

ALMT Legal is a dynamic and progressive full service Indian law firm providing Indian expertise with an international capability. With over 95 lawyers and partners across offices...

Nishith Desai Associates (NDA) is a research based international law firm with offices in Mumbai, Bangalore, Silicon Valley, Singapore, Basel and New Delhi. The firm specializes...

Thiru & Thiru is a Legal500 (Asia-Pacific) Law Firm with a collective experience of over 160 years amongst its partners and associate partners. The firm has about 70 members,...

Singhania & Partners is a full-service national law firm in India, with its offices at New Delhi, Noida, Bangalore, Hyderabad and Mumbai. We support our clients in all spheres...

Singhania Law Firm is Indian and London law firm provides legal services, advocates and solicitors, litigations, law firm and attorney services in India, UK, London, USA, New York...
Category:
Submit your company info here.