Singhania & Partners
Claim this page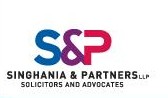 Singhania & Partners is a full-service national law firm in India, with its offices at New Delhi, Noida, Bangalore, Hyderabad and Mumbai. We support our clients in all spheres of corporate law throughout India and internationally through partnership networks with leading local firms in almost all countries and major jurisdictions. We encompass a team of over 70 qualified and seasoned professionals with extensive experience and wide exposure and some with a dual qualification in law, chartered accountants and company secretaries. Our team is dedicated to provide success to our clients, with timely delivery, excellence and cost effective legal services.
The firm represents a number of large, small and medium businesses, multinational corporations, fortune 500 companies as well as Public Sector Undertakings, Ministries and Government Authorities. The firm is empanelled with the Ministry of Finance and Department of Economic Affairs for providing legal services in Public Private Partnerships Transactions for both central and state agencies. The firm provides comprehensive legal support to (FDI) foreign direct investment projects. The firm has accumulated considerable practical experience based on profound understanding of all shades of India's legal realities, social, economic and political developments, the local culture, the mentality and expectations of the investors. The firm offers pioneering results, to the legal and business challenges presented by today's surfacing global markets.
Practice Areas
We advise in areas such as Investment options, Company Incorporation, Acquisitions & Mergers, Due Diligence, Cross Border Transactions, Structuring/Restructuring, Supply Contracts, Joint Ventures, Project Finance, Bid Process Management, EPC Contracts, O&M Contracts, Taxation (Direct and Indirect), International Transactions, Employment, Real Estate, Litigation & Arbitration, Intellectual Property and day-to-day advice. Some of the sectors we advise include Aviation, Banking & Finance, Defence, Food & Drugs, Information Technology, Mining, Manufacturing, Pharma, Ports, Power, Public Private Partnership, Roads, Railways, Retails, Telecom, Hospitals, Trade & Customs etc.
Singhania & Partners Other Office Locations:
HEAD OFFICE, NCR
S&P House H-186,
Sector - 63,
Noida NCR Delhi- 201301
Tel. +91 (120) 463-1000
Fax +91 (120) 463-1001
E-mail: N...@Singhania.in
NEW DELHI
9th Floor,
Himalaya House 23,
Kasturba Gandhi Marg,
New Delhi – 110 001
Tel +91 (011) 4153-1000
Fax +91 (011) 2371-6699
E-mail: D...@Singhania.in
MUMBAI
123-A, 12th Floor,
Mittal Court, Nariman Point,
Mumbai - 400021
Tel. +91 (22) 2288-5550
Fax +91 (22) 2288-5560
E-mail: M...@singhania.in
HYDERABAD
# 614, Babukhan Estate,
Basheer Bagh
Hyderabad 500001
Tel.: +91 (40) 6581 0662
Fax +91 (40) 2322-6219
E-mail: H...@Singhania.in
Singhania & Partners
' also may find interest in followings . . .

Singhania Law Firm is Indian and London law firm provides legal services, advocates and solicitors, litigations, law firm and attorney services in India, UK, London, USA, New York...
Legaleye Associates is a full service law firm in India, with its offices in Mumbai, Pune and Delhi and network offices in all other major cities of India. The firm is best known...

ALMT Legal is a dynamic and progressive full service Indian law firm providing Indian expertise with an international capability. With over 95 lawyers and partners across offices...

Rajendra Desai Law Firm was established in by a famous authority in the matters of Indian Law and deals primarily with civil, procedural and commerce related laws. Though the...

Rajkishore Associates is a full service law firm specializing in Indian Corporate Law. The firm practice areas include joint ventures, mergers and acquisitions, foreign...

Thiru & Thiru is a Legal500 (Asia-Pacific) Law Firm with a collective experience of over 160 years amongst its partners and associate partners. The firm has about 70 members,...
Thakker & Thakker ("T&T") was an Indian law firm that specialized in advising corporates in relation to their businesses, activities and investments in India. It was a...
Category:
Submit your company info here.