Thakker & Thakker
Claim this page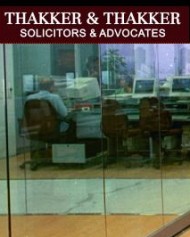 Thakker & Thakker ("T&T") was an Indian law firm that specialized in advising corporates in relation to their businesses, activities and investments in India. It was a full service law firm and provided qualified and experienced advice on a variety of Indian laws, regulations and policies
T&T was probably the only law firm in India, which exclusively serviced multinationals and to avoid potential conflicts had no local clients. The focus of T&T was to provide timely and efficient advice in relation to all areas of practice and to act as a single point of referral for foreign entities wishing to establish a presence in India. With more than 800 multinational corporations as its clients, T&T had gained significant experience in a variety of practice-areas.
Services
T&T was recognized for its:
Commitment to provide high-quality legal advice and solutions at international standards
Timely and prompt responses to meet client requirements
Combination of legal, regulatory, tax and commercial requirements whilst preparing legal advice and strategy
Ability to correspond with clients situated overseas and to represent the clients' interests in India, without the client requiring to travel to India
Access to latest information and communications technology advances and equipment.
International publications ranked T&T lawyers amongst India's leading practitioners in Mergers and Acquisitions, Regulatory Communications, Telecommunications, Media and Information Technology Laws, Capital Markets and Tax Laws.
Practice Areas
Corporate & Commercial Laws
Thakker & Thakker's ("T&T") Corporate and Commercial Laws team was centric to the Firm's practice and led the Firm to work very closely with a gamut of in-house counsel and international law firms. T&T serviced a range of international clients in every sector by advising on and drafting documents necessary to create and preserve contractual relationships, protect clients' rights and enhance the value of their businesses. T&T's advice covered all kinds of commercial agreements including purchase and supply, partnering, agency and distribution, franchise, logistics and warehousing, facilities management, management arrangements and commercial outsourcing.
Areas of Specialization
T&T maintained a dedicated team of commercial lawyers who possessed expertise in:
Commercial agreements documenting relationships with suppliers, customers or strategic partners
Comprehensive agreements covering commencement, duration and termination of employment of senior and managerial staff
Intellectual property transfer and assignment agreements
Date Privacy and confidentiality agreements
Real Estate related concession agreements, Lease and Licensing agreements
Timely and prompt responses to meet client requirements
Mergers, Acquisitions and Joint Ventures
T&T was a leader in mergers, acquisitions, divestitures, spin-offs and joint ventures. Multinational clients regularly chose T&T for mergers and acquisitions because of its commercial, corporate and tax expertise in the largest and most complex negotiations, most of which were cross-border transactions that involved multiple jurisdictions.
The Mergers, Acquisitions and Joint Ventures Team worked closely with tax and securities law specialists to bring depth and breadth of experience to every transaction. T&T provided experienced and competent service for all types of transactions for several Fortune 500 and multinational corporations.
Areas of Specialization
T&T advised on spectrum of legal, commercial and compliance issues in a M&A or JV transaction, such as:
Assisting in conceptualization and structuring of the transaction
Negotiating agreements
Preparing and negotiating letters of intent
Conducting legal due-diligence reviews
Assisting in obtaining regulatory approvals
Structuring alternatives such as joint ventures and strategic alliances
Negotiating and documenting various forms of transactions
Telecommunication, Media and Technology ("TMT")
T&T was the pre-eminent TMT law firm in India. Since its formation in 1990, T&T had consistently represented the world's leading TMT companies.
T&T maintained a specialist TMT Practice Team that had the expertise of handling sophisticated and niche TMT issues. Renowned publications across the globe ranked T&T as a forerunning TMT Firm over the years.
Areas of Specialization
T&T advised on spectrum of legal and regulatory issues pertaining to TMT related transactions, such as:
Regulatory and Compliance
M&A and Investments
Conceptualization and structuring of India entry strategies
Advise on legal issues relating to cutting edge technology
Litigation
Banking & Corporate Finance
Banking & Corporate Finance was one of the primary practice areas of T&T. The team provided experienced and competent service for all types of Banking & Corporate Finance transactions for several Fortune 500 companies and multinational corporations including leading international banks, asset management companies, brokers and merchant bankers.
T&T regularly assisted clients on various issues arising under the Banking Regulation Act, 1949, and other allied laws, and provided advisory services to various banks/corporate sector on the foreign exchange regulations pertaining to investments/transactions in the banking sector. The firm was also involved in establishing and providing advisory services to Non-Banking Financial companies, for foreign clients in India.
Areas of Specialization
T&T specialized in providing competent, prompt and comprehensive advisory, documentation and drafting services on various banking and corporate finance issues including, but not limited, to:
Offshore structuring for ultimate Indian investments
Aircraft financing
Issue of bonds and listing and placement of securities
Reorganization of companies
Structuring transactions to achieve tax efficiency
Structuring India entry strategy for banks and financial institutions
Modes of using Indian assets as security for foreign debt
Taxation
T&T provided quality tax advice and assistance to its clients. T&T maintained a specialized Tax Team, staffed with qualified professionals. The T&T Tax Team was headed by Senior Consultant to TTCS, Ketan Kothari, a Chartered Accountant with over 22 years of experience in taxation, corporate finance and corporate restructuring.
Areas of Specialization
T&T regularly advised its clients on various aspects of taxation laws in India, India's tax treaties and international taxation. T&T was especially competent to advise and assist on:
Cross-border taxation issues
BPO taxation
E-commerce taxation
PE issues
India's transfer pricing rules
Withholding on payments to non-residents
Tax planning for investments in India
Tax implications of deputation of expatriates to India
Tax implications on grant of employee stock options to Indian employees
Indirect tax laws in India, including sales tax, service tax, customs duty, excise duty and stamp duty
T&T also provides legal representation before various Indian tax authorities and appellate authorities, including the customs department, the stamp office and the customs appellate tribunal
T&T's office counsel include leading practitioners on customs duty and sales tax.
Capital Market
T&T had a well established capital markets practice. Leading investment banks, multinational companies, private equity funds and asset management companies throughout the world relied on T&T for the most current advice on capital markets, disclosure and corporate governance matters, securities regulatory issues and financial transaction structuring. The scope and depth of T&T's understanding of Indian securities market was its core strength and enabled T&T to offer clients seamless advice across markets in their worldwide financing activities involving India. T&T's broad experience in the area of capital markets included private placements, initial public offerings and structured finance transactions. The breadth and depth of the T&T capital market team's knowledge and experience enabled the Firm to manage effectively the capital markets process for clients around the world.
Areas of Specialization
T&T advised on spectrum of legal, commercial and compliance issues significant to capital markets, such as:
Portfolio investments
Equity offerings
FCCB/ADR/GDR issues
Listing and reporting requirements
Vetting of offer documents
Applications to SEBI and other regulatory authorities, statutory filings, etc.
Public offers
Private Placements
Foreign Institutional Investors / Sub Accounts registrations
Derivatives & structured products
Innovative financing transactions
General advice on securities laws.
Intellectual Property ("IP")
T&T maintained a specialized IP cell comprising experienced litigation and IP transactional attorneys. T&T's IP team included registered trademark agents and trademark examiners who had many years of experience in complex technology and multimedia licensing.
Areas of Specialization
T&T advised on spectrum of legal, commercial and compliance issues in Intellectual Property, such as:
Structuring, negotiations and drafting of agreements, licenses, assignments and other IP related documents
IP registration
Legal protection against IP infringement
Passing-off action
Anti-counterfeiting actions
Employment & Labour
T&T was a leading law firm in India having a well established employment law practice. T&T specialized in providing competent, prompt and comprehensive advisory services on employment issues ranging from review of employment contracts, release and termination deeds, employees hand book, stock options, termination of employment, secondment and transfer of employees, redundancies, employee data protection, safeguarding trade secrets and intellectual property, diligence on employment laws and compliance check in corporate restructuring, etc.
Areas of Specialization
T&T specialized in providing competent, prompt and comprehensive advisory services on various employment issues including, but not limited, to:
Employment considerations of mergers, acquisitions, takeovers, etc.
Employment contracts
Employee benefits (both statutory and non statutory)
Immigration requirements, for seconded employees of multinational companies
Data privacy and confidentiality
Employee stock option plans
Hiring, training and job selection criteria
Real Estate
T&T maintained a specialized property cell comprising of experienced property transactional attorneys.
T&T's well structured and efficient property cell had extensive experience of managing and acquiring both commercial and residential property from single flats and shops, to residential blocks, industrial estates and shopping centers.
Areas of Specialization
T&T maintained a specialized property cell comprising experienced litigation attorneys and property transactional attorneys. T&T's property practice included:
Land search
Title verification
Independent verifications at government offices
Negotiations with land owners and architects
Documentation for development
Construction and other legal agreements
Advice on structure options
Legal documentation and assistance in procedural aspects such as stamping, registration, filings etc.
Thakker & Thakker
' also may find interest in followings . . .

ALMT Legal is a dynamic and progressive full service Indian law firm providing Indian expertise with an international capability. With over 95 lawyers and partners across offices...
Legaleye Associates is a full service law firm in India, with its offices in Mumbai, Pune and Delhi and network offices in all other major cities of India. The firm is best known...

Rajendra Desai Law Firm was established in by a famous authority in the matters of Indian Law and deals primarily with civil, procedural and commerce related laws. Though the...

Thiru & Thiru is a Legal500 (Asia-Pacific) Law Firm with a collective experience of over 160 years amongst its partners and associate partners. The firm has about 70 members,...

Rajkishore Associates is a full service law firm specializing in Indian Corporate Law. The firm practice areas include joint ventures, mergers and acquisitions, foreign...

Narasappa, Doraswamy & Raja is one of India´s best law firms. The Firm was founded with the aim of bringing an international quality approach to legal practice in India. We...

Singhania & Partners is a full-service national law firm in India, with its offices at New Delhi, Noida, Bangalore, Hyderabad and Mumbai. We support our clients in all spheres...
Category:
Submit your company info here.