Construction Care Chemicals
Claim this page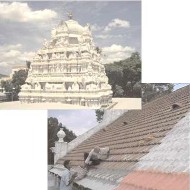 Construction Care Chemicals began functioning in the year 2000, with an objective to manufacture and supply world class Waterproofing Compounds such as Liquid Waterproofing Chemicals, CCC Acrylic Admixture, Flexible Cementitious Waterproofing Membrane, Flexible Protective Membrane, and so on. Our Chief Technical Consultant, Mr. L.G. Vaidyanathan is backbone of the company, who started CCC ISO PROOF.
The company has two authorized applicators - M/S SHASTHA ASSOCIATES and M/S SEEPAGE STOPPERS. It is these two companies, which are known for using CCC ISO PROOF for Waterproofing Works. CCC ISO PROOF is an approved product in many institutions & organizations. There are several leading companies like HAL, ISRO, and BEML which needs Waterproofing Services for their buildings. Though Tar Felt has been a popular and economical method of Waterproofing, but it never solved the main purpose or fulfilled exact requirement of user.
Our Product Range:
CCC ISO Proof
CCC Acrylic Admixture
CCC Patching Mortar
CCC FLEXIBLE Cementatious Membrane
Construction Care Chemicals
' also may find interest in followings . . .

Lake Chemicals Pvt Ltd, a Bangalore based company situated in the southern part of India, popularly known as Silicon Valley of Asia. Lake is a leading manufacturer of psychotic...

NCC is a vision seen in exemplary clarity by Dr. AVS Raju, architect, planner and builder close to three decades ago. Years that have seen the Company creating history, time and...
Business and Services: Indenting Agents and Traders Of Essential Oils, Aromatic Chemicals, Industrial Chemicals, Fine Chemicals, Pharma Raw Materials, Bulk Drugs, Pharma...

ELITE CAR CARE - MEGUIAR'S FIRST AUTHORISED OUTLET in Karnataka is bringing Bangalore one of the finest detailing services directly from Meguiar's to you, to be the owner and to...
Loan scheme for (a) Ready built office/ construction of new office building Firms and companies which have been in operation for at least 5 years with a successful track record...

TELCO Construction Equipment Co. Ltd, the Leader in Construction Equipment in India, enhances the operational performance of its customers, leading to improving their...

Professionals in Interior Decoration a. Plastic Doors & Frames Ideal for Toilets & Bathrooms Water Proof, Rot Proof, Weather Proof, Termite Proof Available in various...
Category:
Submit your company info here.