Telco Construction Equipment Limited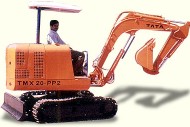 TELCO Construction Equipment Co. Ltd, the Leader in Construction Equipment in India, enhances the operational performance of its customers, leading to improving their profitability and competitiveness by offering constructive solutions. Telcon is a subsidiary company of TATA motors, which holds 60% share, and Hitachi Construction Machinery Co. Ltd, Japan holding the balance 40%. The company commenced manufacturing of construction equipment in 1961, as a division of TELCO. In 1984, it entered into a technical collaboration with HCM, Japan for manufacturing state of the art hydraulic excavators.
Vision:
"Global Top 25 in CE Industry By 2012".
Mission:
To be The Most Trusted Partner for providing Full Line of Constructive Solutions for Mining, Construction , Infrastructure & Agriculture Sectors.
While Dominating the Indian Market, we shall make concerted efforts to meet our Global Ambitions.
Our Hallmark shall be Our Motivated People, Strong Partnerships at all levels, Superior Technologies and Our Widespread Customer Support, all working in Unison with Environment and Society.
Telco Construction Equipment Limited
' also may find interest in followings . . .

HM Constructions have shaped the Bangalore's skyline both in terms of residential estates and commercial properties at par to any international city in the world.we are...

Merely 19 years young, KPDL has quickly moved from strength to strength to emerge as Pune's leading Real Estate Developer. We offer an impeccable mix of path breaking...

Construction Care Chemicals began functioning in the year 2000, with an objective to manufacture and supply world class Waterproofing Compounds such as Liquid...

NCC is a vision seen in exemplary clarity by Dr. AVS Raju, architect, planner and builder close to three decades ago. Years that have seen the Company creating history,...

Meghana Homes Pvt. Ltd., incorporated four years back to undertake real estate development as its core business activity, today stands on a foundation of enterprising...

We are a brigade of skilled manpower with years of rich experience under our sleeves. We understand a family's Housing needs intimately and a workspace's high energy...

The Adarsh group was established in 1988, by BM Jayeshankar with a sole objective of building high-end quality-centric properties in the realty space. At a time when...
Category:
Submit your company info here.