Citrus
Claim this page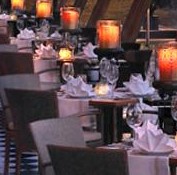 Citrus, located in The Leela Palace is a dream, surrounded by the hotel's lush green gardens and water bodies, and just right for a leisurely meal or just a coffee. But it is especially beautiful and relaxing at night.
As you visit '
Citrus
' also may find interest in followings . . .

The Leela Palace Kempinski Bangalore offers luxury accommodation, divine comforts and impeccable services right at the heart of Bangalore. Ensconced in 9 acres of tranquility that...

Sitting at the corner of the gorgeously refurbished Citrus, The Cake Shop at The Leela Palace welcomes you with an array of colours, textures and tastes to give a luxurious high-...
Leela Galleria is a luxury shopping mall at the Leela Palace. Spread out on three floors it is a one-stop shopping destination for designer wears, Jewellery, perfume, bags, shoes...

Blue Ginger is among the most scenic restaurants in Bengaluru, The greenery and serenity of the water by day are matched by the elegance of lanterns and coolness at night. More...
Picture yourself in the midst of lush greenery. Now add your family to the picture, unwinding, relaxing, and rejuvenating ties with each other and nature. Too good to be true?...

These 240-acre gardens were laid out during the Muslim era (18 century) by Hyder Ali and Tipu Sultan, 200 years ago. They contain the largest collection of rare tropical and sub-...

Jayamahal Palace Heritage Hotel The enchanting Palace hotel is known for its royalty and elegance. The interiors are endowed by paintings, furniture and decorations which portray...
Category:
Submit your company info here.