Challa PU College of Commerce
Claim this page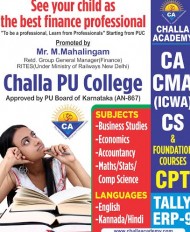 Shri M Mahalingam, retired Group General Manager/Finace, RITES Under Ministry of Railways started coaching for CA, ICWA, CS and other Finance Professional Courses under the purview of MV Amma Charitable Trust with a motive to train the youngsters into the best Finance Professionals with support of multiqualifed professionals from the Industry.
The basic Input of students who passed +2 for facing Foundation Courses of CA, ICWA and CS was not sufficient and hence decided to start a PU College with only Commerce and fourth subject as Mathematcis, Statistics and Computer Science. It is felt essential to give the proper foundation at PUC level so that the students can successfully come out as Chartered Accountants, Cost Accountants and Company Secretaries.
There is huge demand for Chartered Accountants, Cost Accountants and Company Secretaries in the market who are well respected in the society and reimbursed well compared to other professions. There are Organisations without a Doctor and/or an Engineer but there is no organisation without a Finance Professionals. Hence, vast scope for Finance Professionals and to facilitate the students to become Chartered Accountants it is essential to provide them Basic Mathematics/Statistics as optionals in Commerce Combinations. Hence, Challa PU College came into existence to facilitate the students to become Finance Professionals.
Challa PU College of Commerce
' also may find interest in followings . . .
The Qualified professionals in the fields of management, accountancy, medicine, veterinary, architecture and engineering and provided financial assistance for setting up business...
Industrial units working profitably can avail services of plant and machinery/ equipment on lease without making investment or incurring debt obligation and become more...
Government Finance in Bangalore, India
The IT Sector provides vast employment opportunities. It is estimated that in the year 2010, the potential for employment in Karnataka in the IT Sector alone will reach 10 lakhs....

Bodhi Professional Solutions Pvt Ltd. is India's leading soultions provider in the photo, advertisement and printing industry. we also provide color management solutions to the...

Founded in 1966, the Indo-Italian Chamber of Commerce and Industry (IICCI) is a non-profit organization recognized by the Italian Government, whose main objective is to promote...

Established in 1968, the Indo-American Chamber of Commerce (IACC) is a non-government, industry led and industry-managed organization, playing a proactive role in Indias...
Category:
Submit your company info here.