Padmabushana Dr. Rajkumar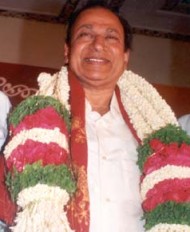 It is as easier as it is difficult to describe Dr. Raj Kumar, who has charted his own path in the field of Cinema for the past 45 years and still going strong. The name will have a mesmerizing effect on several lacks of Kannadigas who have grown with the aura and magical presence of Dr. Raj Kumar in the field of Kannada Cinema and Culture. It would also be minimizing the contribution of Dr. Raj Kumar for the cause and growth of Kannada, if you were to bracket him as only an artist. His influence extends beyond the scope of Kannada films, as he has always stood and fought for the cause of Kannada without causing embarrassment to any one. He singularly believed that it is discipline, handwork that can take an actor to heights and followed it. To this effect, he was lucky enough to get a father who guided him. His father Singanallur Puttaswamiah was not only a great actor, but according to Dr. Raj himself-he was a great human being. Dr. Raj Kumar's initiation in the professional theatre groups did give him the requisite training in the field of acting. He was in a great company of some great actors like Dr. Gubbi Veeranna, Subbaiah Naidu, Mohamed Peer Saab and others, and learnt the tricks even as a small boy. But he did learn more than the mere acting abilities, and learnt how to be simple and how to respect people. Infact, this is one character, which made him extremely popular and likeable among fans, producers and directors. He remained a simple and straightforward man and never did hurt anyone in his career.
Starting from "Bedara Kannappa" directed by Veteran Director H.L.N.Suimha to his latest film "Shabdavedi" (his 205th film), Dr. Raj Kumar has registered his magical presence on the screen and to any objective observer it will be clear that his talent and abilities will make all the difference from the other films. He has carried the film's fate on his shoulders, and despite many weak scripts and other below par disciplines, in other categories, Dr. Raj Kumar"s acting has always emerged as a strong point in films, and have been beneficial to take the film to dizzy heights in terms of Box office performance.
He has won many awards for his acting, and his dedication to the profession has been well appreciated by many veterans in the Indian film Industry, including his contemporaries and stalwarts like Dialup Kumar, Dr. Shivjai Ganeshan, Dr. Akkineni Nageshwara Rao and Late Dr. N.T.Rama Rao. He is a real icon and it will be difficult to find any Kannadiga in any part of the world to have missed the Dr. Raj Kumar mystique. As an actor, he can not be compared to any one. While Dilip Kumar excelled in doing Tragic roles and Dr. Akkineni fitted extremely well into the films of family mould, Dr. Raj Kumar"s versatility had no parallel. He excelled in doing the roles of a Saint, a trust worthy family man, an investigating Police officer, a Bond, a lover, a loving son, an adorable brother, an ideal teacher, a great poet and so on. He would dance well, fight well and also sing well-besides giving the best shot when he acted in front of the camera. Dr. Raj Kumar is also a great singer, having bagged a National Award for the Best Singer for rendering a melodious song in the film "Jeevana Chaitra". His film songs and devotional songs are always in the top of the charts and his songs command the highest value in terms of acceptance and royalty.
He was rightly awarded the Dada Saheb Phalke Award for his contribution to the film Industry by the Central Government. There are innumerable prestigious awards he has received, but according to him the greatest award is the People's love towards him.
It would be difficult to quantify his acting achievements in a single article. He has lived the roles he played. There will be more than 25 films that any Kannadiga can count as his best, though the great thespian himself says that it is his luck and god's grace that he was well received by the Kannada film audience. Certainly a modest statement that comes from one of the greatest actors of our times. But still, if it is to be said on record, Dr. Raj Kumar has given exceptional performance in films like Santa Tukaram, Bhaktha Kanakadasa, Bangarada Manushya, Shankar Guru, Jedara Bale, Mantralaya Mahathme, Jeevana Chaitra, Haalu Jenu, Bhagyada Lakshmi Baramma, Anuraga Aralithu to name a few films. Dr. Raj Kumar's credentials as a Box Office Super Star is un parallel, as even in the age of 72, he has retained the same aura of popularity as could be seen in the way his recent film "Shabdavedi" is drawing crowds all over Karnataka.
For an average Kannada film goer, all the other things in Dr. Raj Kumar film becomes totally irrelevant. His entire focus will be on Dr. Raj Kumar and Dr. Raj Kumar alone. He affectionately calls him as "Annavru" (big brother) and adores him to the extent of tottoing his figure on any part of his body. For the intelligential and educated, Dr. Raj Kumar represents what is ideal and what is best to the society. He has refined taste and vocabulary and he is a true representative of Kannadiga ethos.