Sultan Thariani The Ganesha Collector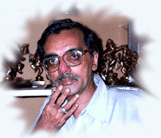 With Ganesh Chathurti approaching, artisans all over the country are busy creating idols of the popular God of prosperity. In the city, numerous forms of Ganesha are in various stages of completion. There are the famed Kumartouli potters from Bengal giving shape to idols for the Bengalee Association while the artists from the Mumbai school have also set up shop here with their expertise on larger than life Ganeshas that will finally be laid to rest in the lakes and tanks of Bangalore. The familiar chants of 'Ganapathi Bappa Moriya' will rent the air, as the city's residents seek the favour of Ganesha for another year of peace and prosperity.
Today, Ganesha has emerged as the most popular deity in the Hindu pantheon, and idols of Him are bought not just for puja purposes, but also as showpieces or gifts.
For the serious 'Ganesha Collector', the casual shopper or even the curious browser in Bangalore, there is only person to go to ... Sultan Thariani.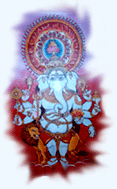 At any time, Sultan is surrounded by more than 3000 different varieties of Ganesha in his shop called "Chandni" located on the 1st floor of the Public Utility Building on M.G.Road. Online Bangalore takes a closer look at the man and his fascinating collection.
Sultan's tryst with Ganesha goes back many years during his stay in Mumbai. Every Tuesday he was a regular at the famous Siddhi Vinayaka Temple. But little did Sultan know that Ganesha would eventually become a means of livihood. He left Mumbai in 1991 and came over to Bangalore to start afresh. He took over the present shop, which was selling inferior quality handicrafts from an acquaintance of his. New to the business, Sultan soon realized that his acquaintance had literally 'dumped' the business on him with a dead stock worth over 3 lakhs. It took him 3 years to finally sell off all his stock. Meanwhile, one day Dwarakanath, a metal craftsman of the traditional school, approached him. He handed over a Ganesha idol, which had a unique design. The very next day, the idol was sold.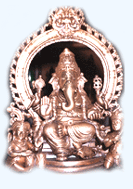 Then it suddenly dawned on Sultan that this was going to be the specific area he needed to focus on. He had finally discovered his motive as well as his Unique Selling Point. Since that day, there was no looking back. Dwarakanath would bring in the finely sculpted Ganeshas and Sultan would sell them in no time. Though he was selling the idols like hotcakes, Sultan realized that he needed to bring in newer designs every time, instead of selling the same designs over again. So he would painstakingly prepare the initial art work for the Ganesha idols and then hand them over to Dwarakanath, who would then sculpt them to perfection. Sultan's eye for aesthetics, (though he has no formal education in painting or art) combined with the fact that Ganesha is the one deity who can be given any design and still the people would flock to purchase them. So there was nothing to restrict Sultan from giving Ganeshas new form.
Today, his shop stocks Ganeshas made from all kinds of mediums. Bronze, brass, copper, silver, alloys, terracotta, papier-mache, fish bone, semi precious stones and even synthetic materials. Not restricting himself to sculptures only, Sultan also has a fantastic collection of Ganesha paintings. Even the mediums used for painting are varied. They are available on canvas - both oil and watercolour compositions, on marble silk and even using crushed gemstones. Another special medium is the pink Meenakari work done on silver from Varanasi. His Ganesha collection comes from practically every region of India as well as Nepal and Indonesia. When we asked him what is the latest design of Ganesha, Sultan proudly displays us a framed 'painting' of Ganesh. "This is the Drishti Ganesha", he says. And this particular piece is called a "Navarathna" painting, because instead of paints, crushed semi-precious stones of the 9 colours of the Navarathna are used. This specific design of the Drishti Ganesha originated in Tamil Nadu and is very popular there', says Sultan. "This Ganesha when placed in your home or office is guaranteed to ward off evil. Note that the eyes are widened in anger. Shiva is represented here in the form of the 'third eye", his ornaments and weaponry resemble those of Vishnu, whereas the goddess Durga is depicted as a lion that stands behind Ganesha. His crown is surrounded by an outer circle of 51 eyes and an inner circle of 9 snakes". The Drishti Ganesha is also available as a carving in white cedar wood.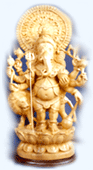 Sultan's passion and artistry is best reflected in his collection of "Hoysala Bronzes", so called, because they are created using the technique of the Hoysala School. The attention to detail is the highlight of these bronzes. "Unlike the Chola bronzes (from Kumbakonam and Swamimalai in Tamil Nadu) which do not have much detail, the Hoysala idols are intricately created. And whereas the Chola variety are made by the 'lost wax process', ours are made using metal dyes and high copper content, which gives the idols the fine glaze and finish. Moreover, the metal dyes can be used to make a number of idols of the same design, while the Chola method can produce only one idol. No two idols will be the same. Every conceivable position of Ganesha is available in the Hoysala range of Sultan's bronzes. The infant Ganesha, standing, lying down, playing musical instruments, etc. Another hot favourite bronze idol that is a craze with his customers is a unique piece, which Sultan has named "Millennium Ganesha". Millennium, because Ganesha is surrounded by 21 lamps signifying the 21st century.
Almost always, Ganesha's trunk is always turned to His left side. But there are rare instances where Ganesha is found with his trunk facing his right, like the famous black idol of Ganesha in Pillayar Patti in Tamil Nadu, where even his hands resemble the elephant. "Why the 'Valampuri Ganesha' or right trunked is not very popular is because, if you have one of them at home, one will have to regularly conduct pujas for it. Unlike the common left facing trunk which can be used casually as a showpiece", says Sultan. Of course, he has a range of right facing ones too.
Sultan has not only mastered the art of making Ganeshas, but selling them too. He painstakingly explains to his customers every small detail and nuance and breaks ice with new customers easily. His growing and satisfied list of customers, are always coming back to him for more. Though his location is not easily aware to Bangalore's floating population of tourists, it is the city's residents that are his main customers. The faith that his customers have in him is best reflected in the words of one of his best customers, who On his deathbed is said to have told his son to "continue to buy at least one idol every month from Sultan's Ganesha collection. "There can be no bigger compliment for me", says Sultan as he fondly recollects the event. We agree.