Fitness Center - HRBR Layout
Claim this page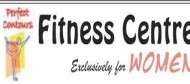 Fitness Center Exclusively for Women
Air Conditioned
Well Equipped
Planned Programs
Fitness Assessment
Cardio & Strength Training
Personal Physiotherapist
As you visit '
Fitness Center - HRBR Layout
' also may find interest in followings . . .

Here's where you choose what goes into your drink! Figurine Fitness will have you twisting and stretching into shape as soon as you sign up for one of their many classes. If you...

Meant for both the weak and strong at heart, cardio workouts at the Hyper Monkey Fitness centre are the way to go if you' re looking to get hale and hearty. Sign up for their...

Fitness for women only; in just 30 minutes! Curves for Women is new in neighborhood. Curves For Women is a unique way to lose weight and get fit. Experience our 30 – minute's...

1: Date: April 2nd to April 26th 2. Venue: All Podar Jumbo Kids and Podar Jumbo Kids Plus centres 3. Timings : 9:30am to 1:30pm 4. Theme : Fun, Fitness and Leaning with Eric...

Bear Hug Daycare Center is an infant and toddler daycare center for children from 8 months to 6 years of age. The objective is to provide a positive atmosphere to promote social,...
The plan envisages setting up a powerful server connected to the Internet via a high-speed link. The primary purpose of establishing a nodal center would be for uploading and...

Sparkling Mindz - What an experience! As you step into the Sparking Mindz Experience Center at Kalyan Nagar...you are 'taken aback'! You are right! The 'atmosphere' and 'ambience...
Category:
Submit your company info here.