TGR Dia Rice by First Choice Foods
Claim this page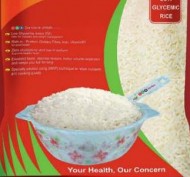 Rice is the staple diet of the world population. Also consumed widely in India, rice is perceived not to be medically conductive for people suffering from hyperglycemia – commonly known as diabetes. The presence of carbohydrates in rice is considered as a serious contributor in elevating blood sugar levels in the human body.
We at First Choice have developed a product – TGR Dia Rice with low glycemic index that is helpful for managing hyperglycemia. Our rice, a result of intense and sustained scientific research spread over many years conforms to international standards of quality and serves as a vital daily diet for adults and children alike.
This product is available in Bangalore at Total Mall, Heritage Foods, Nilgiris, Big Bazaar, MK Ahmed Stores and all other major retails stores.
Please note TGR Dia Rice does not cure or replace any medical treatment for diabetes.
TGR Dia Rice by First Choice Foods
' also may find interest in followings . . .
One of the city's oldest Chinese restaurants, it looks a bit run down, but the food old style Indo-Chinese, is as good as ever. Don't miss the Cracking spinach drums of heaven,...
ACIDIC & ALKALINE FOODS CHART ACIDIC FOODS ALKALINE FOODS Food % acid-genie effect Food % alkali-genie effect...
The dim lighting and old-style decor might be a put off, but foodies who love coastal swear by it, especially the prawn and fish fry, fish curry rice and rice dishes. Average meal...

Casual ambience makes for a very homely feel; board games and abundance of books further enhance this feel. The food is mostly burgers, sandwiches and like, almost all of which...

Garlic: Garlic is very effective in lowering blood pressure.Take 2-3 raw garlic cloves a day. It slows down the pulse rate and relieves the symptoms of dizziness , numbness and...
A unique Bangalore Institution, this is one of the city's most lively food spaces. Don't expect any signboards: there aren't any. During the day, there's not even a sign of its...

Healthy Weight Management by Nutircious It is a common belief that weight loss is terribly difficult and that in order to stay healthy and maintain one's weight, a good diet and...
Category:
Submit your company info here.