Sterling Developers Pvt Ltd
Claim this page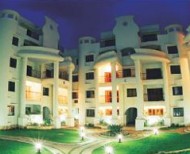 Sterling Developers Pvt Ltd, a real estate development company on the Bengaluru landscape since 1983. Having built over 4 million sft of residential and commercial space in Bengaluru, Sterling Developers expanded their operations to Pune, Maharashtra in 2006
Sterling Differentials:
The Sterling corporate ethos embraces practices and principles that ensure high standards of professionalism and integrity across the board. Profitability is critical, but values even more so. The ethos permeates the organization and business activities.
Key practices and belief systems that underline the Sterling business philosophy:
The client is central to Sterling's business. Customer satisfaction and loyality are the primary parameters in measuring business performance.
Quality is non-negotiable. Stringent adherence to quality systems and processes across every stage ensures benchmark standards.
Integrity is hallowed and its sanctity carefully safeguarded. Fair practice, transparency and uncompromising professionalism are validated at all points of contact
Sterling Developers Pvt Ltd
' also may find interest in followings . . .

Apartments, Villas for sale in bangalore!!! Sterling developers making luxury apartments and villas that delight and satisfy its customer in every way, Sterling Developers has...

Sobha developers a Rs. 10 billion plus company is one of the largest and only backward integrated company in the construction arena. Since its inception Sobha's reputation is...

LG Builders & Developers is one of the leading property developers in Bangalore. Our business ethos is to meet the global challenges for providing unique residential layouts...

Nigama Developers understand these needs through regular research and the selection of specialist consultants to deliver innovative and practical residential & commercial...

R.S. Developers, a subsidiary of Royal Retreat Resort Pvt. Ltd. is one of the premier land developers, property developers and real estates agents based at Bangalore, the "Silicon...

Reliaable Developers is a full-service Real Estate company in the Triangle and to enhance our quality of life through active community involvement. We provide the most...

Mantri Developers Pvt. Ltd. is One of the Leading Real Estate Company in Bangalore. Mantri Developers is Commercial Properties, Luxurious Residential Apartments in Bangalore....
Category:
Submit your company info here.