Fava
Claim this page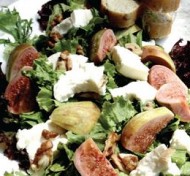 A mediterranean homage to the rustic flavours of Italy to the aromatic mezze platters of Turkey, Fava was started by Chef Abhijit Saha. Apart from numerous awards, and playing host to enjoying Bangalore's perfect weather with its alfresco setup, Fava boasts a tantalizing salad range. The Fava Greek Salad comes with a twist using pickled onions and oregano dressing; the refreshing Melon and Watermelon Salad is served with pomegranate, mint and parmesan. But the spotlight goes to their signature Live Micro Green Salad, with 3 varieties of arugula, lettuce and cherry tomatoes. Micro greens are miniature organic shoots of vegetables dense with nutrition adding a key visual ingredient to your plate. Paired with parmesan, toasted almonds, balsamic reduction and extra virgin olive oil you will find your taste buds treated to richer flavours and textures.
As you visit '
Fava
' also may find interest in followings . . .

Rogue Elephant is a gem in the heritage suburbs of south Bangalore, set on a patio with simple decor. The menu is a mix of Mediterranean, Thai and Continental but the salads are...

Italian culture is synonymous with passion, more so with their art of foot. Combining the bleakest of ingredients with rich complements - the Italian way is the bolder the better...
Tucked away on a busy lane, Olive Beach has many areas to choose from. Including a terrace section which is converted to a romantic setting if so requested. However, the other...

Ruh, or the soul in Turkish, dishes up some of the Mediterranean's finest. Incorporating some of the best from around the Mediterranean coast, this quaint restaurant lets you...

Ingram Micro Inc. is the world's largest technology distributor, providing sales, marketing and logistics services for the IT industry worldwide. Ranked as No.67 in the 2009...

The perfect affordable meal for the hungry traveller! Come indulge and savor the Indian twist to the classic Doner Kebab - your taste buds will thank you. The doner, like the...

If eating your way to good health could be a literal saying, it would be true at Lumiere - an organic restaurant that maintains it own organic farms, bakeries and store to share...
Category:
Submit your company info here.