Mr. Hong (Oriental style teahouse)
Claim this page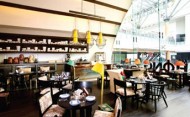 In the Orient of old the day's gossip would be discussed- in fact often unfold- in local tea houses. These discreet little joints were places for storytelling or musical performances, spots to unwind, or rendezvous to catch up. The consumption of numerous cups of hot, flavoured tea was an integral part of this culture and involved an arduous process of continuously pouring and drinking tea.
The last place you'd expect to find a modern day version of such an establishment would be a mall. The artificial-lake-included, spiffy Orion Mall, specifically. Mr. Hong, Bangalore's newest Asian street food joint, a venture than has been inspired by traditional Bangkok teahouses.
Mr. Hong - very seriously - tries to imbibe the spirit of Oriental tea culture. They are very clear that the food they put on your table is Asian street food. You have your basic dimsums and dumplings, all aromatic and flavourful, with their spicy, red-hot chillit dips. Their Tom Kha Chicken Soup with its pungent flavours of chicken stock, coconut milk and lemongrass make it one of the most delicious soups you can find in Bangalore.
The famous tea is prepared by adding hot water to a pot of desiccated leaves that unfurl and release their flavours. When empty, the pot is simply refilled so that the leaves fully discharge their flavour. You are offered numerous refills throughout the meal; jasmine pearl, perhaps or hibicus.
Mr. Hong (Oriental style teahouse)
' also may find interest in followings . . .
A unique Bangalore Institution, this is one of the city's most lively food spaces. Don't expect any signboards: there aren't any. During the day, there's not even a sign of its...

A mall envisioned by the world's leading mall planners and dedicated to life's connoisseurs. Orion oozes indulgence with 146 brands across 4 floors and eight and a half lakh...
Among the very first cuisines that enjoyed high profile status was Vietnamese when the Taj West End converted its much loved Paradise Island to Blue Ginger to showcase this...

A bite of Laos street food, chunks from the Cambodian claypot, Bali's friendly neighbourhood Padang, Thailand's spicy Massaman curry quite like the one at Chatuchach market,...

It is one of the best shopping malls in Bangalore. It is located in Hosur Main Road, Koramangala. This is the largest shopping mall of Bangalore . The international brands like...

Garuda Mall, located near Brigade Road, is one of the first few malls developed in Bangalore. It included six floors of shopping and entertainment space, comprising a food court...
Bangalore is fairly replete with restaurant that serve cuisines from the South Indian states, but where the North is concerned, it usually runs to the ubiquitous North Indian...
Category:
Submit your company info here.